Businesses can now promote their sales and discounts in the Hey Warwick Coupon Tab!
No more paying for expensive newspaper coupons that customers forget to bring to the store!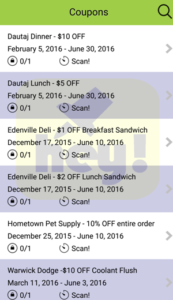 How it Works
You specify and submit your coupon details using the form below.
Upon approval and payment, your coupon will be listed on the Hey Warwick Coupon Tab within 24 hours.
You will also be provided with a QR code for coupon confirmation directly on customer smart phones.
Each coupon includes a push notification during the first week of posting.
Please submit your request to get started: