Send a text message to all Hey Warwick mobile app users!
Why wait for potential customers to find out about your new promotion in the newspaper or from Uncle Frank?
In the current mobile world, users are best reached via their smart phones.
Since Hey Warwick users reside locally and are actively looking for deals and events, you can now contact them immediately, right on their mobile devices.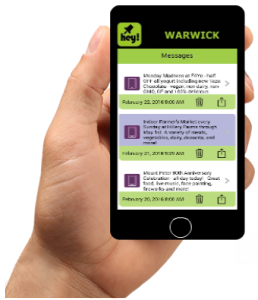 How it Works
You specify:
your notification message
the date and time to send the message
an optional hyperlink within your message
We take care of the rest!
The fastest way to post your message is via the online form below.